SEO During Times Of Crisis: Adapt, Maintain and Plan
"Crisis SEO", who would have thought that this would even be a consideration even just a month or two ago with the start of 2020 looking so positive for businesses and the economy, but here we are in dark days with businesses around the globe under stress, forced to close or move online and to adapt rapidly to an ever evolving situation, the likes of which have never been seen before. This is uncharted territory and we're all hurting. Businesses that were already heavily or totally based online are perhaps in a better position, than wholly "bricks and mortar" businesses, to weather the storm, and this is becoming evident as stores big and small close their physical doors1 and refer customers to their websites for online ordering. But even those agile enough to move online quickly face issues such as skeleton staffing, supply chain delays and problems with delivery of their products as borders close and the country moves toward lockdown. All businesses face tough decisions and hard work ahead; we must be responsive, look for opportunities and try to stay afloat.
So, it's quite natural in this environment, if we start to talk about SEO, that the response might be to ask why would we bother with SEO when there is so much else to worry about? It's true that many people have a lot more serious issues than how they rank on Google, but for many businesses the answer is that absolutely SEO has its place in the current climate and beyond. The search engines are unchanged in terms of their core ranking algorithms, people are still searching online and one day business will resume so we don't want to be starting our SEO all over again.
There are 3 key areas that businesses should be thinking about right now in terms of their SEO: 1) Adapt to the current situation (and quickly), 2) Maintain ongoing, core, SEO basics and 3) Plan for the new business environment once the crisis is over. Let's look at each of those:
Adapt quickly
There several situations that businesses are finding themselves in right now;
Your business is finished
In this case I'm so sorry.
You are still in business but need to suspend online activity
For some businesses things are dire and you may have been, or will be, forced to stop trading. If you have to do that, then you should put your website into a hibernation mode and Google has produced some great advice around this6. In short you may pause your online sales activities as follows:
Post a message on your website and Google My Business page declaring you are suspending online sales or enquiries until whatever date
Disable your shopping cart functionality
Pause Google Ads campaigns and other online marketing
Update your social media with the same information
What you do not want to do, unless you're closing your business for good, is to disable your website entirely (ie turn it off), because then you will lose all your hard-earned rankings quickly, or worse, Google may deem your business to be ended, making rankings recoveries very difficult.
You need to transition more so, or fully, to online operations
Google has been quite responsive in regards to the Covid-19 crisis in some aspects; they have made changes to prioritise search results from mainstream publications2, reducing fake news, and have provided advice on how to update Google My Business (GMB) in general and for specific industries (for instance for Medical Practices3). However, Google has said in regards to Google algorithm updates and SEO activities that "we should continue to do that"4. This means its business as usual for the search results in terms of what Google values for rankings. In other words, we have to keep doing what we have been doing with our SEO basics: technical robustness, quality content, onsite optimisation, link acquisition and social media. If your SEO stops, then you risk your rankings dropping over time as they would any other time if you stopped, or faster if your competitors are still actively undertaking SEO.
Despite this underlying "normal SEO" requirement (see below) we have to adapt, and quickly, in order to survive. But we know that SEO traditionally is a slow mover, with weeks or months required for Google to reflect the efforts we undertake to make our websites more successful in the search results. So, how do we adapt quickly to something that doesn't respond quickly? By looking for new opportunities, and here are some ideas.
Update your website to include information about delivery (or takeaway) and other pertinent info
Cafes and restaurants that are no longer able to offer a dine-in service are currently still able to deliver or offer takeaways. If so, then get that information featured on your website prominently so that Google can find it and display it in the search results for your listing. People are now looking for businesses that deliver. Here is Google Trend data for searches for "delivery" in Australia, it has risen recently (as we'd expect):


…would be changed to "SEO Sunshine Coast – Delivery Available"
Move to selling online if you aren't already
If you aren't already, then add shopping facilities (ecommerce) to your website. This isn't as scary as it sounds. You can either add an ecommerce system into your existing website, in which case you should talk to your web developer who will advise on what you need to do and they'll quote you for that. Or, you can create a separate ecommerce system and link to it from your website and there are some great options for this including:
These are relatively easy to set up yourself.
When selling online change your messaging
If you already sell online or are going to start, then consider these changes to your website:
Adjust delivery time information on your website as appropriate, and be open and transparent about delays – keep people informed!
Label products on the website as out of stock as appropriate but with an opportunity for customers to be alerted by email when stocks are back in.
Don't remove out of stock products entirely or you'll lose your rankings for those pages over time.
Feature products that DO sell, or that you have in stock, higher on the website ie on your home page, category pages etc make them more prominent.
Offer free shipping or a discount – this is always a sales booster.
What can you offer instead of your standard products?
If you manufacture your products, but are unable to sell them at this time, then what can you manufacture instead and are you able to change quickly to produce those items? Look at the distilleries that quickly changed to manufacture hand sanitiser5. That's a well-known example but think about what people quarantined at home, or in isolation, may need or the medical industry needs. Even deeper, think about what other companies may need in terms of materials for what they are selling.
Update your Google My Business (GMB) page
Modify your business name
Google now allows you to change the name of your business on GMB to include that you offer delivery or takeaway, so that this appears in your Knowledge Panel: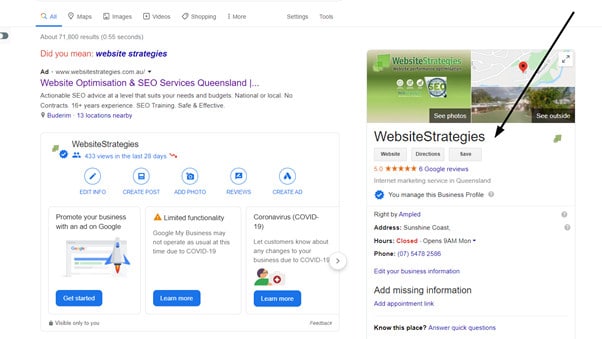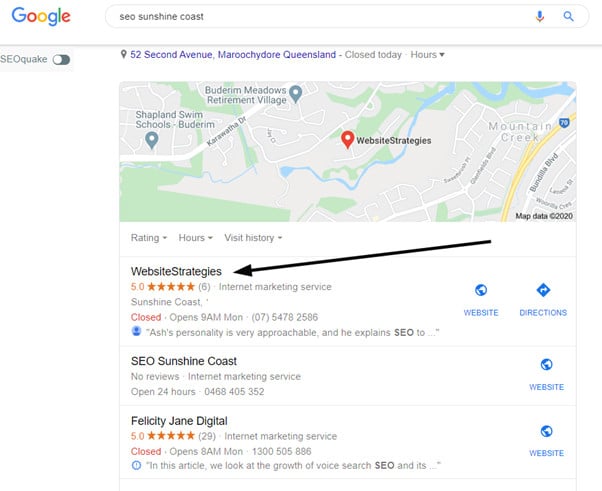 I'm not seeing many businesses doing this which is surprising.
Modify your hours of operation
Ensure your hours are reflecting the new normal. Or you can mark your business as "temporarily closed" if that is appropriate.
Also, remember this:
If you are a café or restaurant, mark your GMP page as providing delivery/take out/dining in etc.
Add Covid19 posts. Google has provided the facility in the GMB posts section to add a Covid-19 related post and it seems at this time that they are the only posts that Google is putting live.
Stay ethical and don't offend. It's important during this time to promote our business, products or services online without seeming flippant or worse, exploitative, during the crisis.

Maintain core SEO
One day this will be over and business life will resume and we'll want to hit the ground running. But where will our rankings be then? We know where we'll want them to be: right at the top of the Google search results where we'll have great visibility on Google. In terms of the search results, Google has said that they are carrying on as usual with their algorithm updates and ranking signals, which makes sense as they can't change things that quickly. This means that they will be valuing the same things they always did when ranking websites: quality content, technical robustness, authority, links and social signals. In other words, we still need to do SEO or we risk losing ground over time and having to recover this loss, once things improve (which is the time when we'll need top rankings the most!). This is "Retention SEO"; keep doing what you have been doing regarding your SEO – keep improving your content, keep building links and stay active.
This could also be a good time to actually pay attention to your website and prepare for the emergence of your business from "hibernation", especially if you are in lockdown and can't actually get out. Why not stay busy during this time!
Test your website. Give the site a good test, submit all your forms and make sure everything works.
Review and upgrade your content. Check the content on all of your pages and improve or expand it where necessary.
Write some blog posts. Add some new blog posts of relevance now and pre-write blog posts for when the crisis is over.
Post updates about your business and industry to your social media and prepare social media posts in advance for when the crisis is over.
Check your business's presence in relevant local business directories. Update your listings and submit your website to any directories where you are not already listed.
Pre-plan specials, offers and discounts in advance for when business starts back up.

Plan for the New Economy SEO
Once the current crisis has passed things will settle back down, but into a new normal. The movement of the economy, industries and businesses into a higher level of online activity during the crisis will surely be retained to a large extent afterwards, meaning our business' online activities will need to be more significant than they were pre-crisis. Competition for places in search engine results will increase, driving an increase in the need for competitive SEO, website marketing and paid ads. More businesses will be selling online or will be making online sales a larger part of their marketing and sales channels, so websites will need to be highly optimised: faster load times, more efficient checkouts and generally greater ease of use. Customer service will be more online-focussed and online tracking of orders, deliveries and support will be increased.
What this means for businesses is an increased requirement to understand what is required for online business and then to implement it – those that don't will surely fall behind. I already see the more agile businesses adapting to the current crisis and finding ways to survive by thinking outside the box, eking business out of a dire situation now but also setting themselves up for greater success afterwards, once the smoke has cleared.
So, if possible and you can survive at all, and I know many businesses can't, then don't stop! Use this time to set yourself up to survive now and get ready for success afterwards.
This article originally published on https://ashleybryan.com.au/seo-advice-in-the-2020-crisis/
Sources:
Further reading:
Latest posts by Ashley Bryan
(see all)